Looking for reliable and top notch Land Cruiser V8 Pop Up hire in Uganda services? We have so far the best 4×4 rental cars that you can take anywhere while on your safari in Uganda. These are well maintained and serviced to give you a hassle free experience while on and off road.
Whether you are on a self drive to Bwindi to see mountain gorillas, to Murchison falls to see the world's most powerful waterfall or to see tree climbing lions in Queen Elizabeth National Park and more other destinations.
Our Land Cruiser V8 Pop up hire in Uganda comes with a pop up that enables you to have a 360 view of different parts of the destination you are going to. Also this is the perfect car you can take for a game drive in any of the parks in Uganda where you will be able to have a clear view of different wildlife species like bird species, lions, elephants, buffaloes and more as they roam in the park.
With the pop up roof, you are assured of enough head room while in the car. The car also comes with well sanitized and stunning interior made up of either leather seats or non-leather seats that offer you the extra comfort you need.
This Land Cruiser V8 Pop Up hire in Uganda also comes with a powerful engine that gives it the ability to conquer the different terrains in the different parts of the country. The spacious vehicle also comes with features like a modern entertainment system that has ports that you can use to charge your devices or even connect wirelessly to listen to music. Others include a first aid box, an air conditioner (AC), an electric fridge (at an extra amount), GPS (at an extra cost), spare tyre and more others.
Fuel consumption
The fuel consumption of this Land Cruiser V8 Pop up hire in Uganda is slightly higher compared to other cars like a RAV4, Land Cruiser TX/TZ or even a saloon car. This is attributed to the engine power of this car that gives it the ability to navigate the different terrains with ease.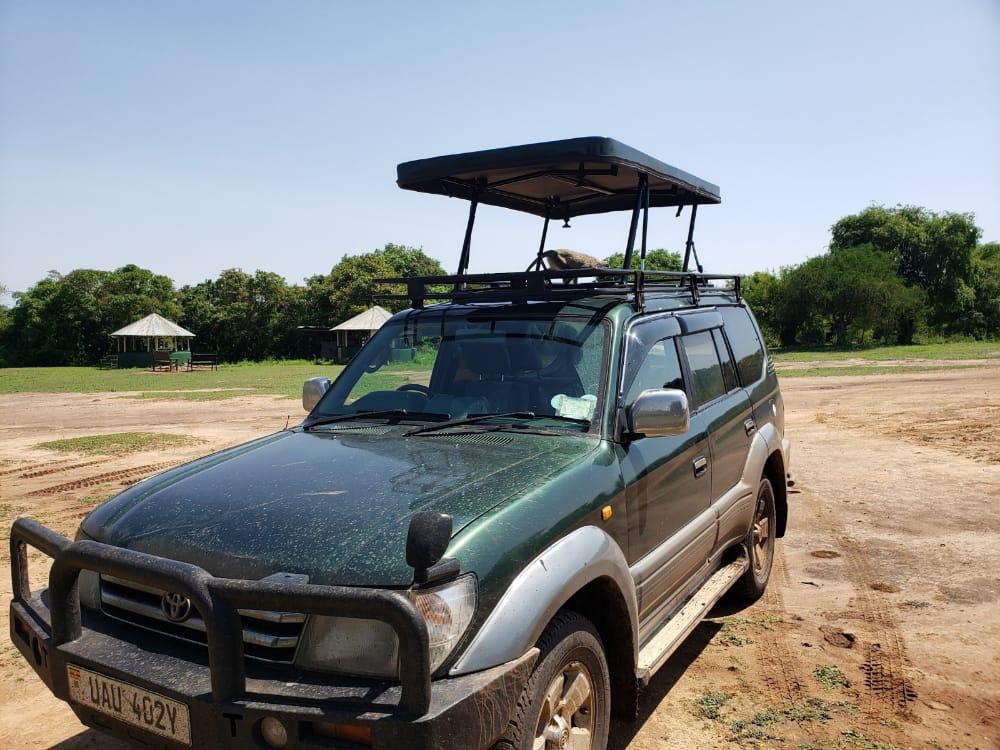 Land Cruiser V8 with Pop up roof hire in Uganda – Key highlights;
Transmission- automatic or manual

Fuel type- Gasoline and Diesel.

A modern entertainment system that has USB charging ports, bluetooth enabled speakers, first aid kit and AC

Enough space for 5-6 people.
How much is renting a Land Cruiser V8 pop up in Uganda
The cost of Land Cruiser V8 Pop up hire in Uganda is $80 per day for self drive and $100 per day if you are renting with a driver. Our car rental Uganda costs include unlimited mileage meaning we don't limit you on where and when to stop or even charge you an extra fee. As long as you are within your 4×4 rental period, we won't charge you.
When renting a land cruiser V8 Pop Up hire in Uganda with us, expect no hidden fees with us. The cost we always give you before you proceed with your trip is always final. If you are planning to rent a Land Cruiser V8 Pop up hire in Uganda for more than a month, you will be assured of a discount of up to 25% .
How to rent a Land Cruiser V8 Pop up in Uganda
The best way you can explore and get to discover what the "Pearl of Africa" has within her boundaries is by renting a car and wondering how you can hire a Land Cruiser V8 Pop up in Uganda. It's quite simple.
You can fill our request form with your details and our team will be ready to take you through the booking process. Here, you will need to present details like the number of people, the number of days and the destination as well.