Experience Uganda at its best when you hire a safari Land cruiser that will take you to the country's top destinations for unlimited fun, see different wildlife species, and experience the various cultures and more.
Hire a Safari Land cruiser in Uganda and you will be assured of an incredible, rewarding and unforgettable experience while on the road and offroad. Our Safari Land Cruiser is the best car to navigate the different terrains found in most parts of the country and also a comfortable and reliable means of exploring the country's diverse wildlife and natural beauty.
This is among the popular cars hired for travelers who are planning to do a game drive in some of the national parks in the country. With its Pop up roof, you will have a 360 view of different corners of the park giving you an opportunity to see a number of wildlife species as they roam around the park. You will also be able various features and capture the beautiful scenic of different parts of a particular destination you will have visited.
When hiring a Safari Land Cruiser in Uganda, We highly recommend car rental in Uganda with a driver since navigating the roads on your own can be challenging due to the varying conditions and unfamiliar traffic patterns. Having a driver who is well versed with the local road network and driving customs can greatly enhance your experience and ensure a safe journey.
Our drivers are well trained, licensed and well versed with the road network in Uganda and beyond making sure you get to reach your final destination with ease and on time.
How much does it cost hiring a Safari Land Cruiser in Uganda?
The cost of hiring a Safari Land Cruiser may vary depending on the duration of the rental, the number of people and the destination as well. Having considered the above factors, you will easily get to know the cost of hiring a safari land cruiser in Uganda.
At Uganda Self Drives, we have no hidden costs. What we give you is the final cost and all our cars come with unlimited mileage meaning you can go anywhere, anytime without worry.
How Many People Does a Safari Land cruiser carry
A safari Land Cruiser typically carries up to 7 people and will have enough space for your luggage as well. If you are planning to go for a game drive, our van has a pop up roof top to enable you have a 360 view of different parts of a specific location you are.
Can a foreigner hire a safari land cruiser in Uganda?
Yes, foreigners can hire a safari land cruiser in Uganda as long as you avail a valid driving license and you meet the required car rental age limit in Uganda.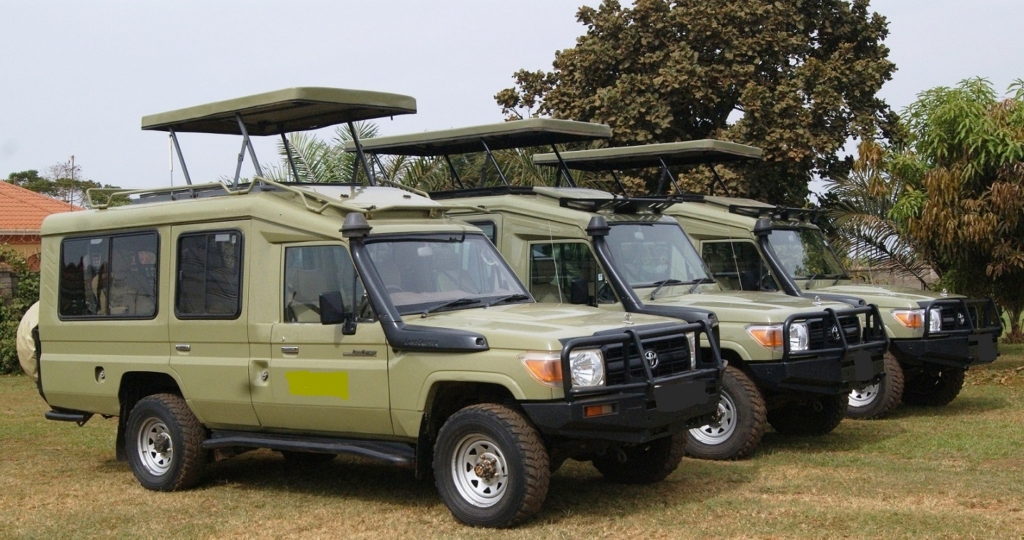 Safari Land Cruiser; Key Highlighs
Transmission – Auntomatic and manual
Seating capacity – 6-7 people
Features; bluetooth enabled speakers, AC, Leather or non-leather comfortable seats, pop up roof and more.
Perfect to navigate through rugged terrains
Comes with a driver
Can you cross the border with a car?
Yes, you can cross the border in a car rental in Uganda. However, it is important to note that certain conditions and requirements must be met. These include having the necessary travel documents such as a valid passport, driver's license, and international driving permit.
It is advisable to check with the car rental company beforehand to ensure that their vehicles are allowed to cross the border and if any additional fees or permits are required. It is also recommended to familiarize yourself with the specific border crossing regulations and procedures of the countries you intend to visit.
Which land cruiser is good for a safari in Uganda?
The Land Cruiser Prado is a popular choice for safaris in Uganda. It offers excellent off-road capabilities, a comfortable interior, and ample space for passengers and luggage. With its powerful engine and advanced suspension system, it can handle the rugged terrain and unpredictable weather conditions often encountered during safaris. Additionally, the Prado's reputation for reliability and durability makes it a trusted option for safari operators in Uganda, the Land Cruiser Prado is a good choice for a safari in Uganda.
Why you should hire a safari land cruiser in Uganda?
Comfort:  A safari Land Cruiser provides a spacious and comfortable ride, ensuring a smooth and enjoyable journey throughout your safari in Uganda.
Safety; With its sturdy build and advanced safety features, a Land Cruiser offers a secure and protected travel experience, especially in the rugged terrains of Uganda.
Off-road capability; A Land Cruiser is specifically designed to handle rough and challenging terrains, allowing you to explore remote and untouched areas of Uganda that other vehicles may not be able to access.
Wildlife viewing; The elevated height of a Land Cruiser provides excellent visibility, giving you the best vantage point to spot and observe the diverse wildlife in Uganda's national parks.
Experienced drivers; Hiring a Land Cruiser often comes with a professional and knowledgeable driver who is familiar with the local wildlife and can enhance your safari experience with their expertise.
Flexibility; A Land Cruiser allows you to customize your itinerary and explore Uganda at your own pace, ensuring a personalized and tailored safari experience.
Equipment and amenities; Land Cruisers are equipped with essential amenities such as a pop-up roof, charging ports, and comfortable seating, enhancing your comfort and convenience during your safari in Uganda.
Reliability; Land Cruisers are renowned for their durability and reliability, making them a trusted choice for safari adventures in Uganda, where road conditions can be challenging.
Authentic safari experience; Hiring a Land Cruiser adds to the authenticity of your safari in Uganda, allowing you to immerse yourself in the natural beauty and wildlife of the country in a way that is true to the African safari experience.
To hire a safari Land Cruiser in Uganda, do contact us today by filling our request form with your details, when you will need the car, pick up location and our team will get back to you as soon as possible to process your booking. 
You can as well contact us directly on +256 759498123 and we will be more than ready to process your booking.