If you are going for a safari and want to hire a 4×4 Rav4 in Uganda at very low and affordable price? Don't hesitate to get in touch with us. Our 4X4 RAV4 hire in Uganda are reliable, well maintained and serviced to give you a hassle free experience while on and off-road in Uganda.
Our 4×4 Rav4 Hire in Uganda is a popular choice among travelers due to its reliability, low fuel consumption and versatility. With its spacious interior and rugged design, it is well-suited for navigating both urban and rural areas.
Whether you are exploring the bustling streets of Kampala or embarking on a safari in one of Uganda's national parks, this 4×4 Rav4 hire in Uganda will provide you with a comfortable and convenient mode of transportation.
There are several car rental agencies in Uganda that offer Rav4 rentals, but we assure you we have the most reliable and unmatched RAV4s for hire in Uganda.
Why you should hire a RAV4 in Uganda
The spacious interior allows for comfortable seating and ample storage space for safari gear.
Rav4's excellent off-road capabilities enable easy navigation through rugged terrains.
Its advanced safety features provide added security during wildlife encounters.
Rav4's Fuel efficiency ensures cost-effective travel during long safari expeditions.
Its reliable and durable performance ensures a smooth and uninterrupted safari experience.
Its versatile and adaptable design accommodates various safari activities and equipment.
Its enhanced visibility and high driving position offer better views of wildlife and surroundings.
Its extensive cargo capacity allows for easy transportation of camping equipment and supplies.
Its modern technology features, such as GPS navigation and connectivity options, enhance the overall safari experience.
Rav4's wide range of available models and options cater to different safari preferences and requirements.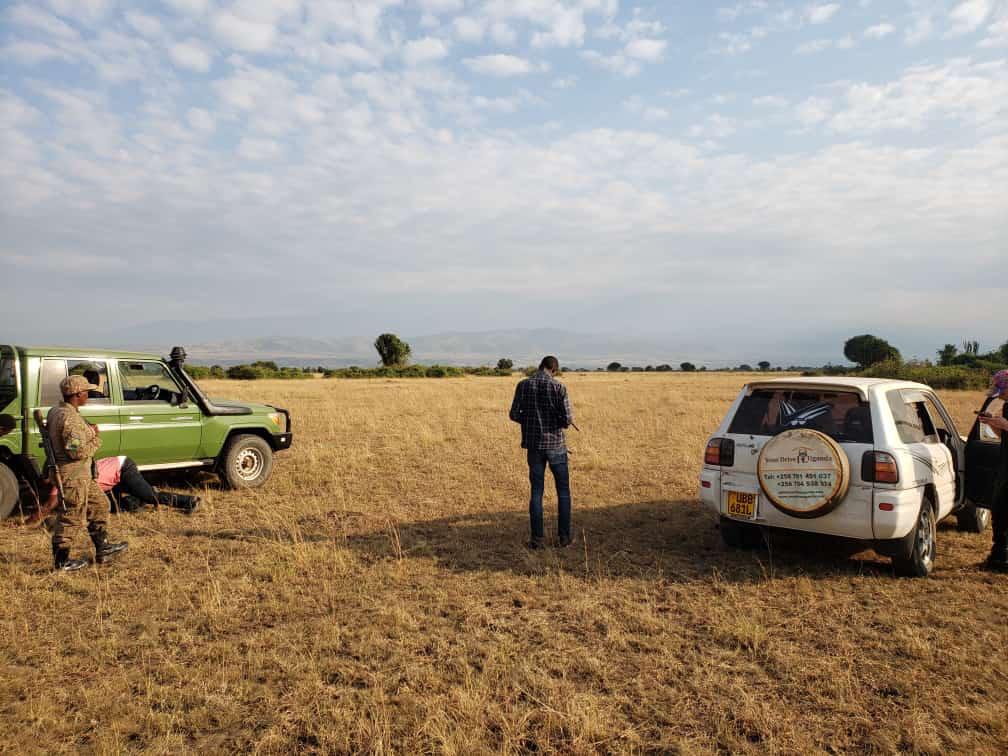 Specifications of a RAV4;
Engine: 2.5L 4-cylinder
Transmission: 8-speed automatic
Drive train: Front-wheel drive or all-wheel drive
Fuel Efficiency: 27 mpg city / 35 mpg highway
Seating Capacity: 5 including driver.
Cargo Space: 37.6 cubic feet (rear seats up), 69.8 cubic feet (rear seats folded). 
FREQUENT ASKED QUESTIONS
We have compiled some of the most asked questions about car hire in Uganda specifically for RAV4s to ensure you are well versed with the country and these include;
How much does it cost to hire a Rav4 in Uganda?
The cost of hiring a car in Uganda varies depending on several factors such as the duration of the rental (days), the location, and the specific model of the vehicle. Our car rental in Uganda prices specifically for this RAV4 go for only $40 per day for travelers who would prefer self drive and $70 per day with car rental with a driver in Uganda.
The beauty about renting from us is that we don't have hidden costs like any other car rental company in Uganda. What we give you is always the final amount and you won't be charged more after you've hire the car.
All our cars including 4×4 RAV4s hire in Uganda come with unlimited mileage meaning we don't limit you on when and where you can go. With our car, you can drive anywhere without worry.
What do I need to rent a Rav4 in Uganda?
To rent this spacious ride in Uganda, you will need to provide the following documents: a valid driver's license, a copy of your passport, proof of insurance, and a credit card for the security deposit.
From what Age can someone rent a car in Uganda?
In Uganda, the minimum age to rent a car is 23 years old and the maximum is 65 years of age. For travelers aged between 21-23 years will have to pay an extra charge on car rental in Uganda.
What is the minimum car rental period in Uganda?
The minimum car rental period in Uganda is one day. However, we advise you to rent the car for the days that you will need it as renting for a single day is costly and in some cases, unable to get a discount.
What kind of driving-license do you need to rent a car in Uganda?

To rent a car in Uganda, you need a valid international driving license. However, if you have a driving license issued by your home country, you will be able to drive in the countr