While on your Uganda safaris, your trip will be incomplete if you don't get the opportunity to visit Kibale Forest National Park which is also known as the 'primate capital of the world' due to the fact that it does have the highest number of primate species than any place within East and central Africa. This park is located in Fort Portal district in the western part of Uganda, north of Queen Elizabeth National Park.
It is well known to be home to a big number of chimpanzees that are approximately 1500 individuals making them the main tourist attraction with in the park.
Kibale Forest National Park was first gazzeted as a government forest reserve in 1932 and later established as a National Park in 1993 to protect the area's unique wildlife from poachers. The park protects the remaining lowland and montane forests in Africa and shelters. It also protects the last evergreen which makes it useful in the ecological system.
Kibale Forest National Park is mostly covered by a tropical rain forest which makes it a good habitat for the wildlife. The forest has about 351 tree species harboring about 70 mammal species, 375 bird species and 13 primates. It covers a surface area of about 307 square miles or 795 square kilometers.
Attractions in Kibale Forest National Park
Kibale National Park is a habitat for several species of primates and it has the highest number of chimpanzees in Uganda. It is recorded that Kibale forest national park has 13 primate species like chimpanzees, blue monkeys, white and black colobus monkeys, red colobus monkeys, central African monkeys, and many more.
The park is a home to over 375 bird species both permanent and endemic to the park. It also harbors domestic and migrating bird species which usually come from the nearby park, Queen Elizabeth National Park.
Other wildlife animals that you will be able to watch in the park include; lions, forest elephants, buffalos, bush pigs and many more.
The thick moist evergreen and semi-deciduous forest cover consisting of 250 tree species. The vegetation rises to over 55m and establishes a semi-closed canopy of massive stratified tree crowns.
Kibale national park is surrounded by different communities with different tradition and culture. Some of these local groups are bakiga and Batoro who are good at entertaining visitors with traditional performances. Therefore, culture in Kibale is among the tourist attraction on Uganda safaris.
Best time to visit Kibale Forest National Park
The dry season is ranked as the best time to visit this park and this is attributed to the fact that during this season, the park receives less or no rainfall at all hence the trails within the park are less slippery and dry which eases movement. During this season, the visitors should however come with sun glasses, cooler boxes and hats to protect themselves from the hot temperatures.
During the wet season, the area's vegetation is rich and hence providing food and shelter to the wildlife. This season is ranked the best period for bird watching because immediately after a rainfall, many species of birds can be spotted on tree branches.
However, Kibale Forest National Park is open to the tourists all year round and it remains worth your visit regardless of the season. The park offers a memorable and breathtaking experience to its visitors.
What to do in Kibale Forest National Park
Kibale national park is home to many primate species and including Chimpanzees, red-tailed monkeys, white colobus monkeys, and many others that anyone on Uganda Safaris to Kibale won't like to miss.
The most popular activity with in the park is Chimpanzee Tracking which involves visitors taking a guided walk with the park rangers in search for the Chimpanzees. To go for chimpanzee tracking, one should book for a chimpanzee tracking permit from the Uganda Wildlife Authority as early as possible in order to secure your trip.
The park is home to over 375 bird species which make it a paradise for bird watching and researching. Birds found in the park include; African Grey Parrot, Africa Pitta, Black-bee eater, joyful green hull and many more.
Birding is mainly done in Bigodi wetland sanctuary because this is where you will be able to see a number of wildlife species.
The visitors can go guided nature walks through the park in order to have a close look to the beautiful scenery of the park. During these walks, visitors are guided by armed park rangers who well versed with areas in the park where one can have stunning views of the park.
Many visitors come to Kibale Forest National Park to carryout nature photograph and make documentaries about the park's flora and fauna.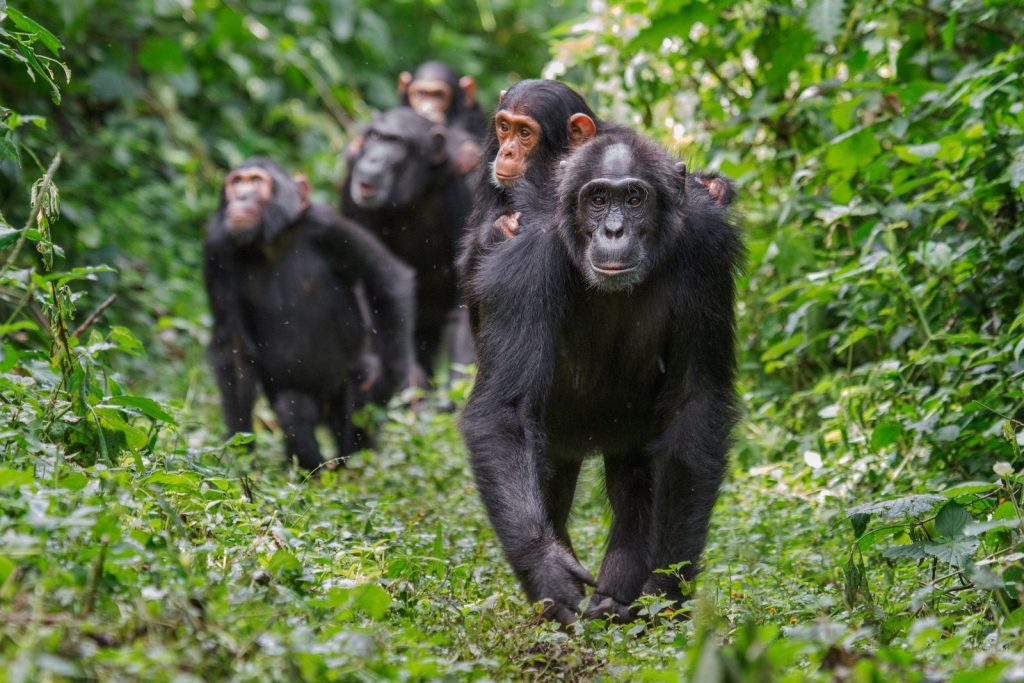 Kibale Forest National Park; Key Highlights you need to know. 
It is called the 'primate capital of the world' because it  has the highest number of primate species than any destination in East and Central Africa. 
It is found in western Uganda, north of Queen Elizabeth National Park.
It is also the perfect destination for birding giving you an opportunity to see a wide range of bird species. 
The main activity to do here is chimpanzee tracking. 
How to get to Kibale Forest National Park
There are two ways in which one can get to Kibale National Park and they are; By air and by road transport.
One can drive from Kampala to kibale through the northern route of Fort Portal and the distance is approximately 337km and takes about 5 to 6 hours to reach the park by car depending on the road condition and traffic. The visitor can decide to rent a vehicle for self-drive or even hire a driver who will be able to provide you with relevant information about Uganda safaris and Kibale National Park.
There are several airlines which offer flights from Entebbe to Kibale Forest National Park such as Aero Link and Fly Uganda. The visitor is advised to book for a flying ticket and check with the desired airline for the flight costs sooner before their journey in order to secure their trips.
A flight from Entebbe Airstrip to Kasese airstrip which is the nearest air field to Kibale Forest National Park takes approximately one hour and from the airstrip, one can continue to the park by hiring a driver or renting a car for self-drive from a trusted car rental company.
Accommodation in Kibale National Park
The park has several accommodation options which cater for different statuses of people. Some of the hotels and lodges found in Kibale Forest National Park are;
Kyaninga lodge which is located near Fort Portal and offers luxury accommodation with beautiful views of lake kyaninga and the Rwenzori mountains. The lodge is worth a 30-minute drive from Kibale forest.
Crater Safari Lodge is positioned on the edge of Kibale crater lakes region, it offers comfortable cottages with beautiful views of the crater lakes.
Turaco Treetops is situated near the forest. The lodge offers unique tree house accommodation and a restaurant serving both local and international foods.
Chimpanzee Forest Guesthouse is situated in Bigodi village close to Kibale Forest. The guesthouse offers comfortable rooms and cottages and it is well known for its hospitality and proximity to the Bigodi Wetland Sanctuaries.
The Ndali Lodge is situated on the picturesque crater lake and is worth an hour drive from Kibale forest. It offers elegant cottages with beautiful views.