Do you want to rent a Safari Van in Uganda, but you are not sure about a car rental company to choose? Well, you are in the right place. We have the best, reliable and affordable safari car rental Uganda vehicles available for hire at very affordable and unbeatable rates.
Hiring a Safari Van in Uganda is an excellent way to explore the country's diverse and beautiful landscape. It is a great way to experience the wildlife, culture, and history of Uganda. With a safari Van, you can travel to different regions of the country and visit some of the most stunning national parks and reserves.
Our safari vans are equipped with comfortable seats, air conditioning (AC), and a driver/guide who is well versed with each and every place you will be visiting in Uganda. It is also the perfect vehicle to use for game drive, bird watching and other activities since it has a pop up roof that enables you to stand inside the car and get to see different wildlife species as they roam around the parks plus the surrounding beautiful scenic views.
Whether you are visiting Uganda on a family safari or work retreat, our safari vans are the best tourist car rental options for you to choose from. These can accommodate up to 10 people and have enough space for luggage as well.
Why you need to hire a Safari Van for a Group Tour in Uganda?
Accommodates a large group: A safari van is spacious enough to comfortably seat a group of people, making it an ideal choice for group tours.
Safety and security; Hiring safari vans ensures the safety and security of the entire group during the tour, as the van is equipped with safety features like a first aid kit, fire extinguisher etc and driven by experienced drivers.
Easy transportation; It provides convenient transportation for the group, allowing them to easily move from one location to another without any hassle.
Wildlife viewing; the elevated seating provides better visibility for wildlife viewing, allowing the group to have a more immersive and enjoyable experience during the tour.
Knowledgeable guide; Hiring a safari van often comes with a knowledgeable guide who can provide valuable insights and information about wildlife and the surrounding environment.
Comfort and convenience; Safari vans are designed to provide comfort and convenience to the passengers, with features like air conditioning, comfortable seating, and storage space for belongings.
Flexibility; Hiring safari vans offers flexibility in terms of itinerary and schedule, allowing the group to customize their tour according to their preferences and interests.
Cost-effective; splitting the cost of hiring this spacious among the group members can be a cost-effective option compared to individual transportation arrangements.
Group bonding; Traveling together in one car allows the group members to bond and create shared memories, enhancing the overall experience of the group tour.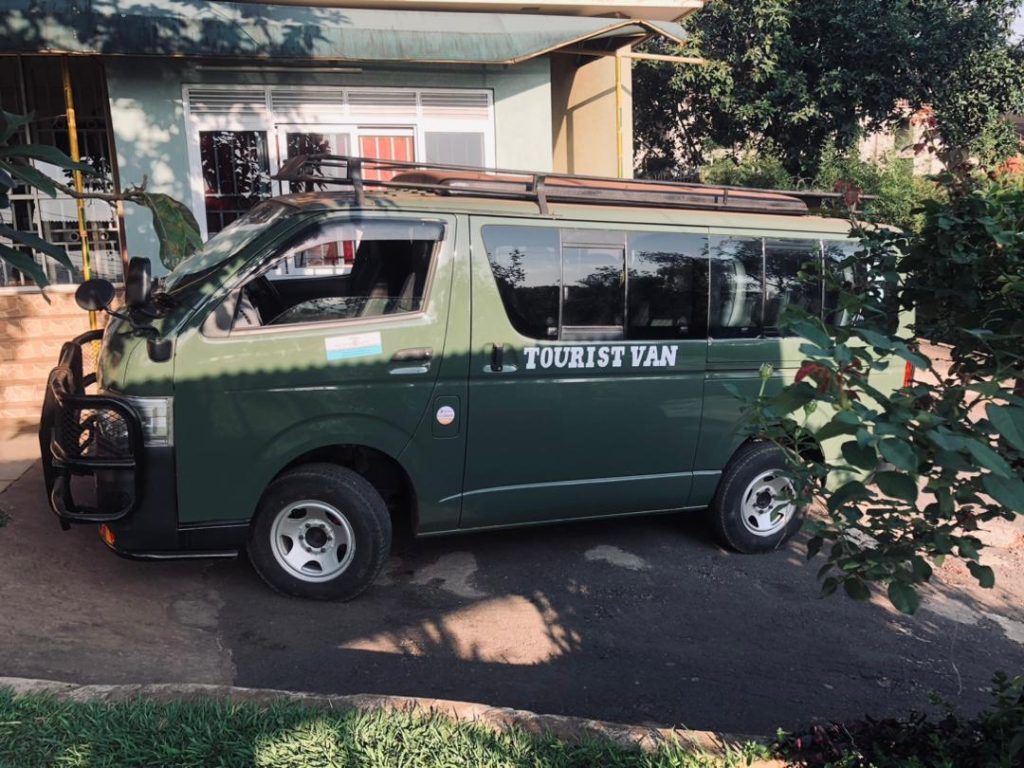 Our Safari Van's specifications;
Engine- V6 3.5L and Horsepower- 280 hp.
Transmission- 10-speed automatic and Towing capacity: 3,500 lbs
Seating capacity- 8 to 10 passengers
Wheelbase- 121.1 inches and Fuel tank capacity- 23 gallons
Fuel economy- 18 mpg city / 24 mpg highway and Cargo volume- 39.2 cubic feet (behind the third row)
Steering is at right and it has 4 doors
How much is renting a safari van in Uganda?
The cost of hiring a safari van in Uganda is $90 per day. However, if you are renting for more than a month, you will qualify for a discount to enable you do so much within Uganda and beyond.
Can a foreigner hire a safari van in Uganda?
Yes, foreigners can hire safari vans in Uganda. These safari vans are specifically designed for wildlife viewing and can accommodate a small group of people along with their luggage and equipment. And it is recommended to book the car in advance to ensure availability, especially during peak tourist seasons.
How to rent a safari van in Uganda?
Renting a car is one of the best ways you can fully explore what Uganda has within her boundaries and to do so, you will need to fill our request form with your details, the pick up location, the number of days you'd prefer to have the car and the number of people. Our team will then get back to you to process your booking.
You can as well reach out to us on +256 759498123 available on WhatsApp and you will be guided on how you can book and hire the safari van in Uganda