Rent Land Cruiser TX In Uganda
A Land cruiser TX is a 4×4 drive vehicle that offers a blend of style, comfort, performance and can accommodate between 4-6 passengers. It is one the popular 4×4 car hire Uganda vehicles that offers more comfort while on and off the road. Our Land cruiser TX is among the best cars to hire especially for VIP occasions such as Airport pickups and drops, business road trips, weddings and Luxury Safaris.
You can hire a Land Cruiser TX on a self drive or car rental in Uganda with a driver if you prefer extra comfort and want to guided on to your destination. To hire Toyota Land Cruiser TX Petrol or diesel, you have to make a request for car booking by filling out the request form. You must specify in your request the date, time, place or address where you want to receive this car, as well as specify the date, time, place or return address of the machine.
Features of our Land Cruiser TX/TZ
Our Land Cruiser TX comes with a number of exciting features that will not only contribute to making your trip memorable but also help you get to your final destination with ease and on time. These cars come with a working Automatic Accelerator (AC), Radio, Bluetooth enabled speakers, extra comfortable leathered seats, GPS tracker (at an extra fee), a fridge (at an extra cost) to keep your drinks cold during a road trip and more.
Windows and door locks
Nothing frustrates like locking the car manually. At Uganda Self Drives we want to ease your time while on a trip and that's why all our cars have automated windows and locks for your safety and privacy.
Car color
We have a wide range of Land Cruisers in different colors and these range from black, white, green, silver and maroon. Whatever color you prefer from the above, we will be able to avail it.
Land Cruiser with a pop up roof
Are you going for a safari in any of the national parks in the country and would want a car that would give you a clear view of wildlife species from above where you feel safe? We have Land Cruiser TX with a pop up roof at very affordable rates.
Spare tyre
To make sure your time and trip are uninterrupted, we always avail all our cars with spare tyres so that just in case you get a flat tyre, you easily replace it and continue with your trip with no delays.
Rooftop tent
You can now rent a Land Cruiser TX with a rooftop tent in Uganda at very affordable rates. Our rooftop tents are comfortable and will enable you spend in night in the wild. When you rent a car with a rooftop tent, we will accompany it with all the necessary gear you need with the car including camping equipment.
Fuel Consumption
Fuel consumption of Land Cruiser TX is majorly determined by type and how much an engine is able to consume per kilometer. For this case, if a Land Cruiser TX that has a fuel tank of 90 litres is filled to capacity, you will be able to refill it again after 500km-600km. The cost of gasoline as of today in Uganda is $1.35 per litre.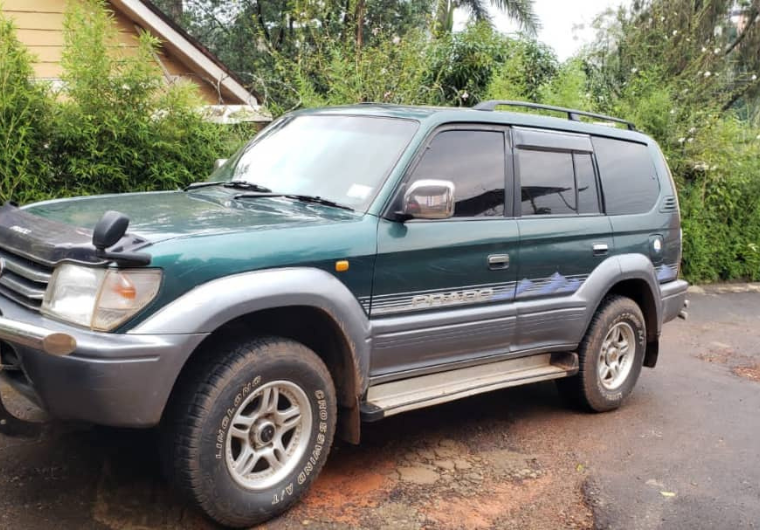 Land Cruiser TX | Key Highlights;
Transmission – Manual and Automatic.
Fuel type- Diesel and Petro
Seating capacity- 5-6 people
Features; Bluetooth enabled speakers, air conditioner (AC), comfortable leather seats, a fridge (at an extra cost) and more.
A spare tyre
Pop up
Roof top tent (at an extra cost)
How much does it cost to rent a car in Uganda
The Toyota Land Cruiser TX price in Uganda while renting it, is only $60 per day for self drive and only $80 per day for car rental in Uganda with driver. Our Toyota Land Cruiser TX price in Uganda is always revised so that we do give you the best experience and still enable you spend with your budget range. For travelers who prefer monthly car rental Uganda, we have good news for you. When you hire a car for more than 3 weeks we have a 20% discount that you will automatically qualify for.
Is a Toyota Land Cruiser TX an SUV
A number of travelers have always wondered whether our Land Cruiser TX is an SUV and the answer is absolutely yes. This is mid size SUV that will give you extra comfort while on and off road compared to saloon cars and perfect if you are planning to visit remote areas within Uganda and beyond.
To rent a Land Cruiser TX in Uganda, call or Whatsapp +256 759498123 or fill our contact form with your details.
Is it safe to rent a Land Cruiser TX in Uganda?
Uganda is one of the safest and peaceful countries on the African continent with less or no history of crime against international travelers for more than 2 decades. And was recently included among the top destinations that you definetely have to visit in 2023.
Go ahead and book a land cruiser today.