Need a reliable 4×4 rental car to use while on a safari? We have the best Land Cruiser Prado with a pop up roof hire in Uganda designed to give you that much desired un forgettable experience you need as you visit the different parts of the pearl of Africa.
Our Land Cruiser Prado with a Pop up roof hire in Uganda is well maintained and serviced to make sure you get to your final destination on time and have a hassle free experience. This spacious is common among travelers who seek to do a game drive in any of the parks in Uganda because it has a pop up roof that enables you to have a 360 view of different parts of the park seeing the different wildlife species as they roam in the park and the beautiful scenic views of the different corners of the specific location.
With the Pop up roof, you are assured of enough head room and comfort. This Land Cruiser Prado with a pop up roof also comes with a stronger and powerful engine to navigate the different rugged terrains in various parts of the country.
Other features you can expect on a Land Cruiser Prado TX with Pop roof hire in Uganda include a first aid box, a functional modern entertainment system that has USB charging port, Bluetooth enabled and more. This car also has a comfortable seats which are of leather and non leather designed to give you the extra comfort you need as you head to your desired destination.
Our Land Cruiser Prado with a pop up roof comes with automatic transmission making it easier to negotiate and navigate through the different routes in Uganda.
Fuel consumption
When it comes to fuel consumption of this Land Cruiser Prado with a pop up roof hire in Uganda, its slightly lower compared to other Land Cruisers like V8, GX and other series. It has a fuel consumption of 11.1litres/ 100KM.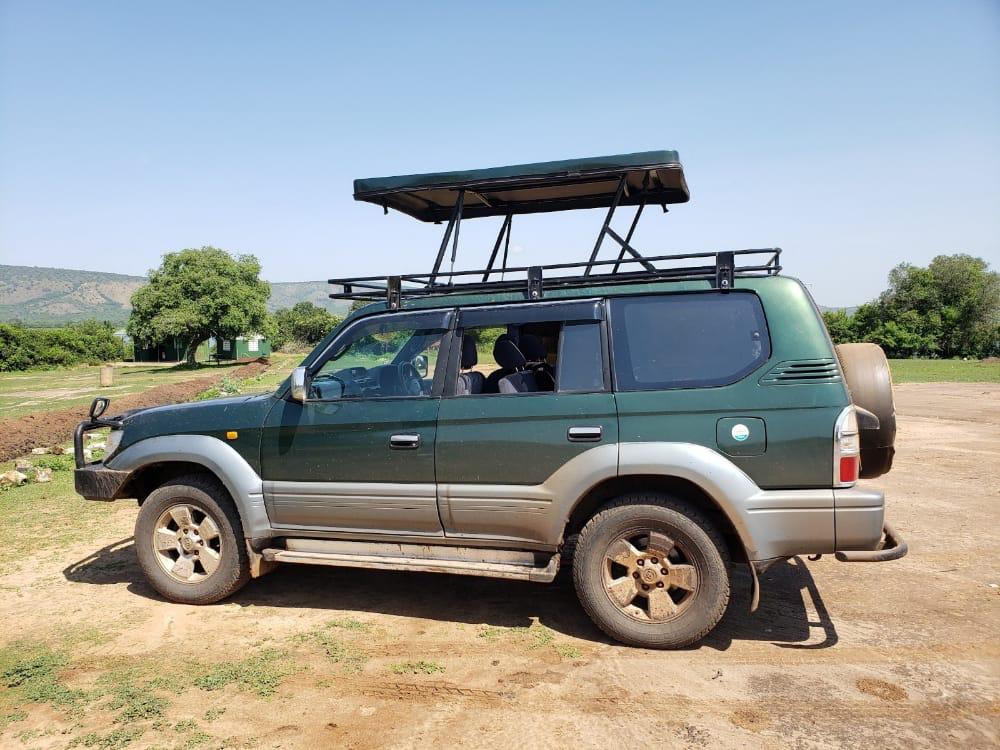 Land Cruiser Prado with a Pop up roof hire in Uganda- Key Highlights you need to know;
Fuel type; Gasoline or diesel

Transmission – automatic

Air conditioner (AC)

First aid kit

Fully functional and modern entertainment system.

Space enough for 6-7 people. 
How much is Land Cruiser Prado with a pop up roof hire in Uganda
The cost of a Land Cruiser Prado with a pop up roof hire in Uganda is pocket friendly but is dependent on a few factors that include; the number of days you are renting the car, the number of people and the destination as well. The cost of renting this spacious car is $60 per day for self drive and $80 per day for car rental with a driver.
When you rent from us for more than a month, you will automatically qualify for a discount on car rental. When you rent from us expect no hidden charges on a rental car. We won't charge you any extra amount of money right after you have took the car from us.
Our Land Cruiser Prado with a pop up roof hire in Uganda cost also comes with unlimited mileage meaning we don't limit you on where you need to stop while driving through Uganda. If you are planning to cross into another country, you will have to inform us days prior to your trip so that we arrange the necessary documents required for you to cross borders.
How to rent a Land Cruiser Prado with a pop up roof in Uganda
To rent a car specifically a Land Cruiser Prado with a pop up roof in Uganda, you will need to fill out request form with your details, the number of days, number of people and the dates of arrival. Upon receiving your booking, our team will proceed to process your booking and make sure the selected car is reserved for the selected date.
Alternatively, you can as well talk to us directly by calling us or WhatsApp via +256 759498123 and our reservations team will make sure they do get back to you as soon as possible to process your booking. Our customer care offers a 24/7 service to make sure anytime you do get to us, we are able to answer your inquiry as soon as possible.
Frequently asked questions
These are few of the most asked questions regarding car rental in Uganda. We have put them together so that you are well versed with Uganda even before you visit it.
Is renting a car in Uganda safe?
Yes. Renting a car for self drive or car rental in Uganda with a driver is absolutely safe as long as you follow the set traffic regulations. Uganda was recently ranked among the top destinations you can visit in 2023 and this is attributed to the fact that it does have a lot you can explore within her boundaries and the security as well. For the last two decades, the country hasn't registered any case against international travelers rendering it among the safest countries you can visit.
Can I drive a car as a tourist in Uganda?
As long as you have the valid required documents and follow the traffic guidelines, you will be able to drive a car in Uganda. Driving in Uganda is quite easy and not as challenging as its thought to be.
How old do I have to be to rent and drive a car in Uganda?
To rent a car in Uganda you have to be aged between 25-65 years. On top of this, you have to make sure you have the valid and required documents like a driving license, international driving permit and also present a valid copy of your passport.
Traffic rules in Uganda?
While driving in Uganda, you are expected to drive from the left side of the road and overtake from the right side only when it's safe for you to do so. Most drivers from countries that drive from the right hand side of the road like the Netherlands need to drive with extra care to avoid switching lanes.
While driving in Uganda, you are also expected to respect other road users and traffic signage for your own safety and others too. In case a traffic officer asks you to stop, you are expected to do so. Traffic officers in Uganda are friendly and will ask you to stop to check whether you have the right documents to be on the road and also the conditions of the car you are driving. Once you are found to have committed no offense, you will be left to proceed with your trip.