Wondering on how to self drive to Bwindi Impenetrable National Park while on a self drive? In this article we will take you through the first things to consider or a self drive guide to Bwindi– one of Uganda's top tourist destinations.
Bwindi Impenetrable National Park is situated in the south western part of Uganda in the district of Kisoro and a self drive to this place will give you an opportunity to see man's closest relative- mountain gorillas right in there natural habitat.
To go for gorilla trekking in Bwindi, which involves hiking through the dense forest to search for the location of gorillas, you will need to have purchased a gorilla trekking permit from the Uganda Wildlife Authority which goes for $700 for foreign non-residents, $600 for foreign residents and UGX 750, 000 for East African residents.
Mountain gorillas are unique wildlife species that we share almost 98% of our DNA and seeing these as they play, feed and fight in their habitat is a memorable and rewarding experience that everyone needs to feel.
The distance from Kampala to Bwindi is approximately 520 kilometres and it will take you between 8-9hrs to get to the park which is almost the whole day.
If you are on a self drive, there different routes you can use to get to this park and this depends on where you will be coming from.
Best and Popular routes to use on a self drive to Bwindi
Like we said, there a number of routes you can use while on your self drive and these include;
Kampala- Kabale-Kanungu-Kanyantorogo-buhoma route; This is one of the routes you can use while on self drive and it will take you 5-6hrs to get to Kabale from Kampala. A trip from Kabale to Buhoma will take you 3.5hrs.
The Kampala-Kabale-Ruhija-Buhoma route; if you are planning to do gorilla trekking in Buhoma sector of the park, this is yet another route that you will definitely need to take. This route will take you through the Ruhija gorilla trekking sector and you will arrive in Buhoma after 3hrs from Kabale.
The Queen Elizabeth National Park – Buhoma; for travelers who will be driving from the Ishasha sector of Queen Elizabeth National park, it will take about 4-5hrs to get to Buhoma trekking sector.
Another route that you can use on a self drive to Bwindi, is the Kigali to any of the gorilla trekking sectors in Bwindi. This is considred to be the shortest route and it will only take you 4-5hrs to get to bwindi.
Kampala – Ntugamo-Rukungiri- kihihi- buhoma; For anyone looking for a direct route, this is the definitely the one that will get you there. From Kampala to Rukungiri, you will be on tarmac and it's from Rukungiri that you will be able to drive on a murram route up to Buhoma.
We fully recommend renting a 4×4 vehicle like a Land Cruiser TX/TZ, a Land Cruiser V8, a Land Cruiser VX/VZ and more because these are the perfect vehicles capable of navigating and conquering areas of different terrains. Our cars are well serviced and maintained to give you the very best experience you need.
Book a gorilla trekking permit with us
Are you coming to Uganda and plan on doing gorilla trekking in Bwindi? Worry not because we will be able to book/ purchase for you a gorilla trekking permit so that by the time you get into the country, you head straight to the park and have a close look at these endangered species. Talk to us today.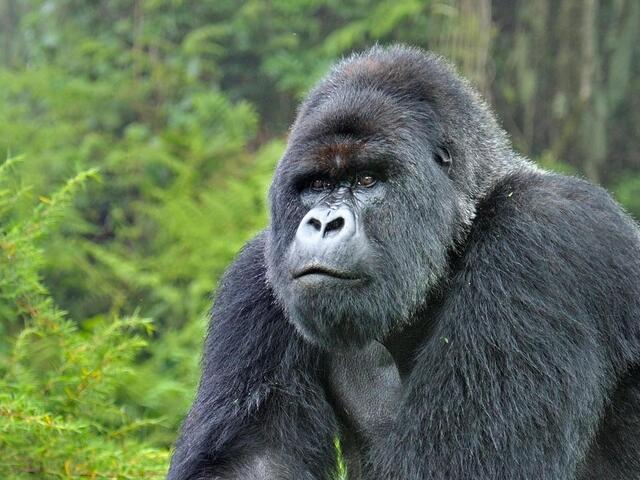 Facts About Gorillas in Bwindi;
Bwindi is home to half of the world's population of mountain gorillas.
A self drive to Bwindi will take between 8-10hrs. 
To go for gorilla trekking, you need to have rested enough and physically fit. 
You will also need to have purchased gorilla trekking/habituation permits from the Uganda Wildlife Authority.
While in the park, you can as well visit the batwa community who were initially inhabitants of the park. 
Recommended stop points while on a self drive to Bwindi
While on a self drive to Bwindi, there designated stopping points that you will definitely have stop by and have a close look at what these have within their boundaries. These include;
Equator sign in Kayabwe; do you want to know how it feels like to be in the northern and southern hemisphere at the same time, stop by at the equator sign in Kayabwe which is situated along the Kampala – Masaka route. While here you can grab a few snacks, purchase locally made craft and also take photos of you posing at this point.
Igongo Cultural centre; As you approach Mbarara city, you will need to stop at Igongo Cultural centre- a place that is full of history especially about the people of Ankole. While here you will able to taste the local dish, get a chance to see locally made craft, and also be told about the rich history of this Uganda.
Mbarara city; this is one of the fastest growing cities in Uganda and if you are looking for a perfect place where you can access a forex bureu, bank and other services, a stop here won't disappoint you.
From Mbarara you can drive straight to Bwindi as you get to enjoy the rolling hills and valleys of the western part of Uganda. You will also get the chance to see plantations and so much more.
Can I do 2 days gorilla trekking experience in Bwindi
Trurh be told, unless you are visiting Bwindi from Kigali, its quite hard to do a 2 days gorilla trekking experience in Bwindi while on a self drive. 3 days are the best anyone can choose if they want to have a rewarding gorilla trekking experience in Bwindi.
The first day is usually dedicated to traveling from Kampala to Bwindi, second day for gorilla trekking and the third day meant for return to Kampala.