Get behind the wheel and discover what Uganda holds within her boundaries with our 4×4 self drive Uganda reliable fleet of cars. You will see the world's famous and unique attractions during the journey, from the mountain gorillas in Bwindi, tree climbing lions in the Ishasha sector of the park, Chimpanzee species in Kibale Forest National Park to the buzzing city of Kampala and so much more.
With our well maintained and serviced cars, you are in the driver's seat- you can enjoy self drive Uganda safaris at your own pace. Our fleet of cars that you can choose from as you plan for your trip include; Toyota RAV4s, Land Cruiser TX/TZ, Land Cruiser V8, Saloon cars, Safari Land Cruisers, Nissan patrol, Land Cruiser hardtop, Land Cruiser GX manual and so much more.
We assure you that whether you are coming on a solo trip, family or honey moon with your loved one we have a car that will meet your expectation and give you a hassle free experience while on a road trip to different parts of the country.
Hit the road on your own while on Self drive Uganda or get to have the luxury of having someone drive you to your final destination – car rental in Uganda with a driver. We have well trained and licensed drivers who are well versed with the road network and will be able to get you to your desired location on time.
With self drive Uganda, you have the flexibility to explore what the East African country has within her boundaries at your own leisure, stopping wherever catches your eye. No need to worry about strict schedules or crowded Kampala city traffic jam – the road is yours to conquer.
When you rent from us, you get to enjoy the features that come with our cars that include a perfectly working Air conditioner (AC), a fully functional modern entertainment system, comfortable leather and non-leather seats, a first aid kit, a spare tyre and so much more.
How much is renting a car for self drive Uganda?
Car rental in Uganda is the best way of getting around the country and exploring the different beautiful scenic views and wildlife species it does hold within her boundaries but before you do go ahead to book a car for self drive Uganda, it's important to know the cost of 4×4 self drive Uganda Kampala as this helps you to spend and stay within your budget. The cost of renting a car for self drive Uganda varies depending on the type of car you prefer to rent, the duration and the destination as well.
Different cars vary in terms of comfort and strength. For example; a Toyota RAV4's rental fee is low compared to that of a Land Cruiser TX because the two differ in terms of strength and comfort with the latter offering a better experience.
When you are renting on a per day basis, the cost tends to be higher, however If you are to opt for monthly car rental Uganda option or more days, we will be able to give you a discount so that you get to spend less than you had anticipated on car rental.
Is It safe to self drive in Uganda?
When it comes to self drive Uganda, your safety is a top priority. Uganda's road network is gradually improving with a number of roads now being tarmacked to ease movement and we assure you that once you follow the set traffic rules and regulations like reading the signages, ensuring you are within the set speed limits and more, you will absolutely be safe. When it comes to security, Uganda is among the safest countries in Africa that has recorded no case against international travelers for two decades. If you are unsure about a given area that you are planning to visit, we recommend using google maps for easy navigation or getting a local tour operator to help you out.
Best car rental Uganda vehicles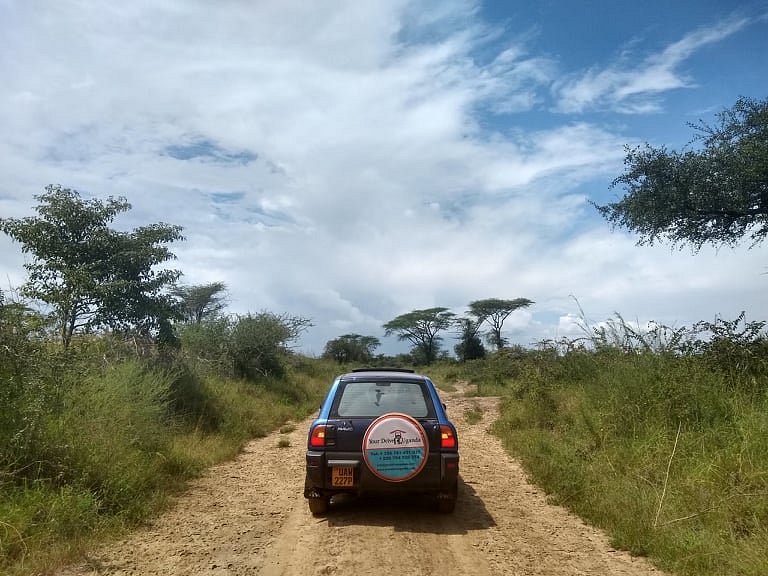 Rent a Toyota RAV4 for self drive Uganda at only $40 per day and get to explore Uganda fully on your own. 
Another car that will give you a hassle free experience while on self drive Uganda is our Land Cruiser TX available at only $60 per day. 
Can I car rental in Uganda with a driver?
Yes. We have so far the best, disciplined and licensed drivers to get you to your preferred destination with ease and on time. The beauty about having our drivers with you is that these act the same time as tour guides meaning they well know the different destinations and the unique species you can find there. Giving you all the necessary information regarding Uganda safaris and what you should expect.
What do I need to rent a car in Uganda for self drive?
To rent  a car in Uganda, you need to be an adult, with a valid driving license. We will expect you to present a a valid copy of driving license and a valid copy of your passport, an international driving permit and upon receiving such documents, we will be able to take you through the booking process.
Go ahead and book with us your most preferred car for self drive Uganda, and we assure you a memorable and rewarding time.